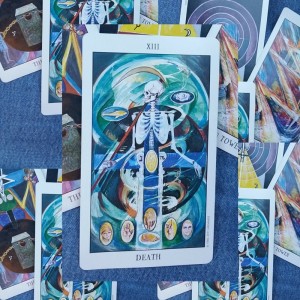 I do tarot card readings for a lot of parties and big events. Shhh – I will tell you a little secret.  Sometimes depending on the vibe I get about the guests at an event, I will  take the Death card and a few other of his scarier looking friends out of my deck and keep them safely stored away in their pouch for the evening.  Yes, that's a night that Death gets to take a little holiday.
However, over the years, I have come to trust my cards to be appropriate to my audiences and usually they comply.  Death is rarely seen unless the person can handle seeing it and my explanation of it.  You see, the Death card doesn't necessarily mean the death of anyone.  But it does signify change which can be very, very, scary to people.
Death can signify our letting go or "killing off' the ego so that we can create freely or go on to what we are meant to do. And as exciting as that sounds, most of us try to avoid that change and will self sabotage to no end.   But let's face it, some parts of ourselves or situations need to die or be done with.  So the Death card does not show up as often as you might think in the readings I do at events and parties.
Recently I had the opportunity to entertain a group of people who work in the mortuary service industry.  They have their annual awards banquet in October (of course!) and everyone dresses up in costume.  Some are extremely elaborate costumes!  It's a really fun group of people and I always enjoy reading for them.  Obviously my cards do too.  Mr. Death card managed to jump out on almost every other reading.  This audience had no problem with him.  They were used to having Death hanging around. He's good for business. It seemed pretty natural for him to show up in their readings considering their field of expertise and they easily accepted my explanation of the meaning of the card in their readings.  I was just in awe of how I can read hundreds of people at parties and not have Death come up once, though within two hours at this party he shows up over and over again to say "howdy".  My cards have a sense of humor and Mr. Death likes to party – at least this time.
While Halloween season is booked up, there are still dates available for holiday parties, festivals and events. Contact Laura at  www.lauraewest.com or 214-334-0769 to book fortune telling or lipstick print readings for your next special occasion.
Please follow and like us: