It's funny how one small thing can totally change how you do something.  As a fortune-teller and Lipsologist, I have a lot of experience with parties and events, big and small.  But I had a situation that almost threw me off my game when I did this one particular party for a woman's business retreat.
First of all, expect some trouble if you only have correspondence and interactions with assistants and not the boss/client you will be working with at the event.  Assistants  definitely don't have the same expectations or emotional investment as their boss.                                                                               Schedule a Lipsology Salon for your group!
That became clear on the night of the event as I was setting up to entertain a group of ladies that had gathered for a business women's retreat.  I was setting up my Lipsology table with the lipsticks, mirrors and Kiss cards and many of the guests were very excited and  eager to make their lip prints and hear what I had to say.  But the hostess had different ideas.  And as the old saying goes "the client is always right" even when they aren't.
"What are you doing?  This is not what I had in mind.  You should have asked me first before setting up."   A very tall woman was leaning in to me.  Her eyes were angry and her tone sharp.
The woman was my hostess and this was my first interaction with her since I was hired.  Other members of the group had welcomed me in and shown me a space where I could set up near the living room.
Having any kind of confrontation before you perform can be very uncomfortable and deflating.   But I  realized – that the woman felt pressured and wanted to look good in front of her group.   She had some sort of vision of how she wanted the evening to roll that somehow I was intuitively supposed to know.
"Oh, I am so sorry!" I apologized. "The ladies were so excited that I was here and showed me in. I was just setting up the Lipsology table so that the ladies could start making their prints.  But what do you have in mind for the evening?  How can I help you?"
"I want a little show.  Entertain us"  she said.  "Tell us the history of Lipsology.   How did you become a Lipsologist?  What is it and how does it apply to us? And then I want everyone to have a reading."
This was going to take more than the hour I had  agreed on with the assistants (who weren't at the gig BTW).  But I realized that this could be an interesting opportunity for me, and it would be an easy request to fulfill.  My years of theater improvisation and teaching have paid off many times and this experience could lead to a whole new product to offer other clients in the future.
"Perfect. I can do that!"  I told her. "Let's get everyone to put on lipstick and make lip prints on their cards.  Then we'll all gather in the living room and I'll take it from there!"
Everyone swooped around my table prepping their cards and taking pictures.  The hostess gave instructions to the maids to keep all the wine glasses full and within ten minutes everyone had settled down.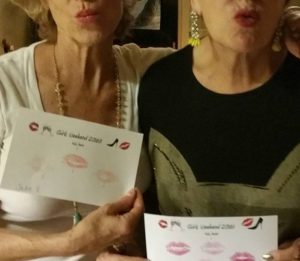 From there I told my story of how I found Jilly Eddy's book "Lipsology, the Art and Science of Lip Print Reading" and continued with how Jilly created her Lipsology system including a few funny antidotes that she had told me during our sessions together.  We looked at all of the different prints made by the group and decided which ones were big or small, which ones were the darkest and lightest and which ones had particular shapes and special markings.  I went around the room looking at the prints and sharing the messages each kiss card had for their owner.
One particular guest who seemed a little older than the others, had a special marking on her upper lip print called an Angel Mark.  My teacher Jilly notes in her book that people with this marking may have had a close brush with death or feel that something (like an angel) watches over them.  The prints are there to remind them that they have a special purpose for being here and to pay attention!
My hostess was sitting next to her and I noticed that she placed her hand on the older woman's back when I was sharing this information.  The woman then told us about being at dinner when she began experiencing a stroke.  Lucky for her she was dining with two  doctors and got her immediate help. She felt like she had divine intervention and thought about it every day since.  The room was stunned.  They knew her, but had not heard her tell this story.  How wonderful that her lip prints could remind her that she was being guarded by the divine.
I spent a lot of time with the group and made sure that the client felt good about the experience.  I did not get paid anything extra for my time or service, however, it was an experience that has gained me many new clients that I would not have had if not for her. This became what I call Lipsology Salon and I immediately sold two sessions the next day.
Do you have a group that likes to have fun learning new things?  Lipsology readings focus on everyone's favorite subject – them!  A Lipsology Salon is a two hour session for up to 10 – 15  people that includes learning about Lipsology, making lip prints on kiss cards, comparing the group's prints and everyone receiving an individual reading from me.
Schedule a Lipsology Salon for your group!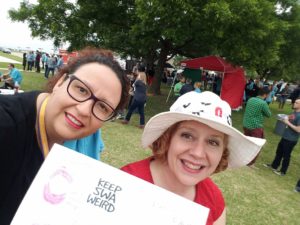 Laura E. West is one of eight certified Lipsologists (lipstick print reader) in the United States.  She studied with Jilly Eddy the creator and author of "Lipsology, the Art & Science of Reading Lip Prints".  Laura enjoys entertaining and reading lip prints for corporate events and private parties as well as friends and family. When not examining lip prints, she trains for marathons and kisses corgis.
For more information about Lipsology and to book Laura for an upcoming event click here!
Please follow and like us: