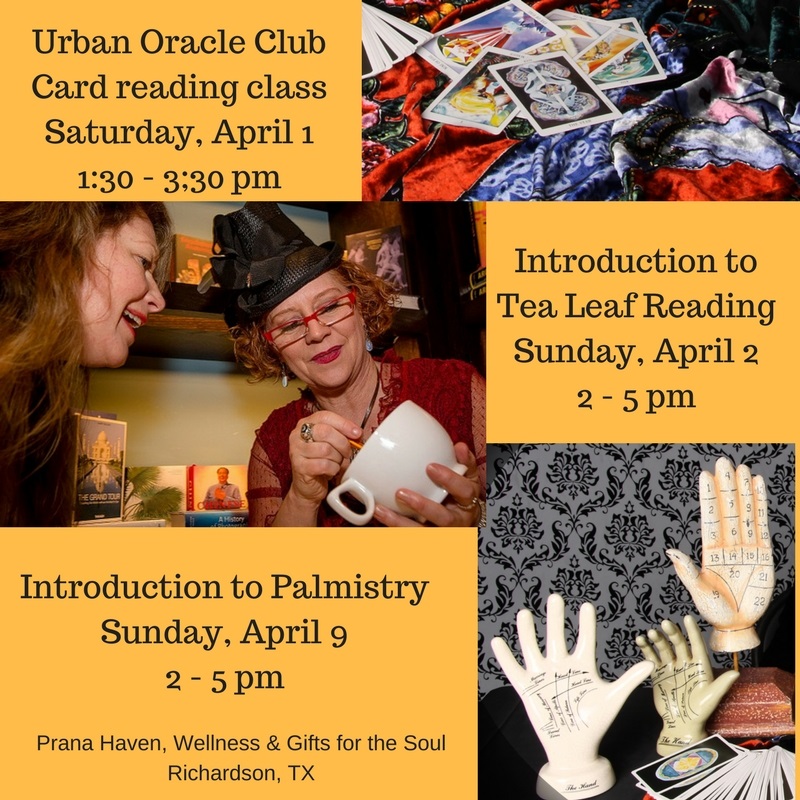 If you are in the Dallas area, we have some fun classes coming up soon at  Prana Haven!   Sharpen your fortune-telling skills, get in touch with your intuition and make new friends!
Saturday, April 1, 2017  1:30 – 3:30 pm   Urban Oracle Club 
Do you like to do tarot or oracle readings for yourself but get confused when you start laying out the cards?
Participants will have access to a variety of oracle and tarot decks as well as step by step card layouts for creating their own personal reading for that month. Each meeting will be structured with a variety of activities including guided meditations, group exercises and games using oracle and tarot decks. A new card layout will be featured each month so that there is always something new to learn!
Sunday, April 2, 2017 2 – 5 pm   Introduction to Tea leaf Reading
Do you love puzzles and solving mysteries?
Are you interested in sharping your observation skills while having fun, making new friends while learning an old fashioned and mystical art?
Participants will learn the basics of beginning tea leaf reading including how to prepare the cup, the best teas to use for readings, how to "spin" a cup and basic tea leaf interpretation skills of how to do a basic tea leaf reading in this interactive class.
Sunday, April 9, 2017, 2 – 5 pm   Introduction to Palmistry
Curious to know what your hand reflects about you?
You'll never look at hands in the same way after this class!
Everyone's hand is like a little book, it has its own unique story to tell.
Participants will learn about various hand shapes and the personalities that go with them, compare different types of finger tips & finger lengths & how these reflect a person's preferences to working with others an explore the major lines in the hand including the mysterious Life Line!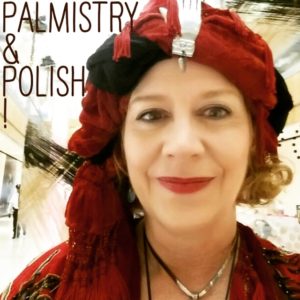 Laura E. West is a professional fortune-teller and certified Lipsologist in Dallas, Texas.  She entertains and enlightens many different ages at parties and events. She is available for private consultations and classes at  Prana Haven, Energy, Wellness and Gifts for the Soul, located in Richardson, Texas.  Drop by, sit a spell and have a cup of tea!   Get a reading or take a class!   www.lauraewest.com
Are you worried about an up coming decision? An intuitive reading can be a wise investment to get you back on track and remove the stress.  Schedule your private reading!   Click here for appointment
Looking for a fun entertainment idea for your next party or event?  Get a free quote here!
Please follow and like us: