Follow the yellow carpet through the golden arch and suddenly you are in another world.  It's one of those beautiful spring evenings in Dallas before things get too hot and muggy.  An element of excitement is in the air and everything is in place ready for adventure and romance.  It's a magical night for a garden party and that's exactly how the event looks that I am doing for Bumble  and their Build Your Hive event at the Crescent Court in Dallas.  The space is decorated with comfy couches and flowers everywhere.  Young people sway to the music playing, clink their glasses and enjoy the free libations.  I see many laughing, talking and also waiting in my fortune-telling line.  Bumble sure knows how to throw a party!  Everyone has a smile on their face.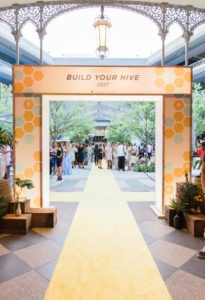 My clients have mostly been women so far and that makes sense if you know about Bumble.  They are dressed to the nines and beautiful but the cards reveal underneath it all there are things that they desire, challenges they are facing and love that they are wanting.  One by one they leave feeling lighter and seeing more hope for their future.  I can hear them sharing what they learned with their friends who ask "How was it? What did she say?"
Fortune-telling can defiantly break the ice at a party.  Word spreads and my line grows.
I have to caution the young women to be careful as they sit down on the glider seat in front of my table. It's kept quite a few guests on their toes and almost on their rears.  But three of them are able to sit together and get comfortable enough to hear their fortunes.   Each took their turn and pulled cards from my tarot deck.  The cards did not hold back and they laughed in recognition of the information and how it pertained to each of their situations.  At the end of our time one of ladies asked which of them would get married first.  So I had each gal pal pull a card from the deck.  Can you guess who pulled the Ace of Hearts (new beginning in love)?  It's the blond on the right!
Photographer  Laura Dominguez  did a great job capturing the magic and fun at this event.  Can't wait to work with this group again!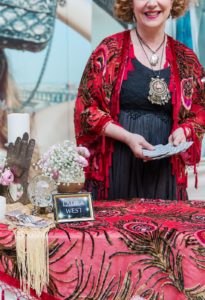 Looking for something fun, unique and engaging for your next future event?  Fortune-telling or Lipsology (lip print reading) are a great way to break the ice for those company parties, cocktail hours or reunions.
Laura E. West is a professional fortune-teller and certified Lipsologist in Dallas, Texas.  She entertains and enlightens many different ages at parties and events. She is available for private consultations and classes at  Prana Haven, Energy, Wellness and Gifts for the Soul, located in Richardson, Texas.  Drop by, sit a spell and have a cup of tea!   Get a reading or take a class!   www.lauraewest.com
Please follow and like us: