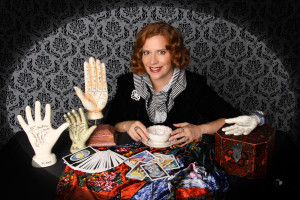 I love being a reader. I love discovering and interpreting symbols and signs for people through several divination techniques: palm reading, tarot cards, astrology and tea leaf reading.
I innocently appear at parties and events in a red turban with a silver hand (yes – talk to the hand) and then entertain for hours doing quick readings for strangers. However, within three minutes I know something wonderful and unique about each one of my guests and have shared that information with them. People comment that the readings are positive and upbeat. It surprises me that people are braced and sometimes even eager to hear the worst about them, but that's not how I roll. It is human nature to dish out plenty of self criticism and we all usually get a good dose of scrutiny from both our work and family. Even tough situations can become some of the biggest breakthroughs for an individual, so it's important that people feel empowered to face their fears. We are seldom reminded of what strengths and talents we bring to the table of life and how our role in it has importance and grace.
I create a unique one on one experience for my clients. Each palm is like a biography. Astrology and tarot card readings are personal road maps that reveal if we will have a smooth or challenging journey and how to prepare for the best result. Each cup of tea leaves hold a series of symbols that can never be duplicated.It is its own mini work of art to be admired and interpreted.
I hope you will get to know and trust me through this blog and my website. I walk my talk and am constantly striving to be better not only as person, but in the work I do and services I offer. I use my knowledge of astrology, tarot cards and tea leaves to divine the future, reconfirm an idea or decision and to help me better understand my life and my role in it. Please join me on my adventures as I reflect on my party and event experiences, continue my quest for finding the perfect hotel and restaurant space in Dallas to read, or introduce and explain different forms of the divination tools I offer and other musings of what my life is like as a psychic reader in Dallas, TX.
Please follow and like us: