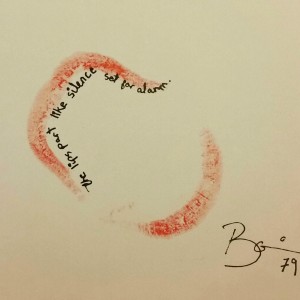 David Bowie's lip prints from 1979 book  "With Love From.."
It was the first thing that I saw on Monday morning when I logged on the internet:  David Bowie 69 dies of cancer.  So sad to lose an incredible artist, entertainer and one of the most innovative minds that shaped pop culture for over forty years if not from the first gasp of air he took in this life.  I was a teenager when I first heard the Ziggy Stardust album and David Bowie became a standard in my music collection.
When I began studying the art and science of Lipsology (lip print reading) last spring with Jilly Eddy  she mentioned a book of celebrity lip prints called "With Love From…" for the charity Save the Children.  In the forward of the book, there is a story explaining that David Bowie actually inspired the "lipograph".  While in London for a performance, he receiving a box of a makeup as a gift from Charles of the Ritz.   Mr. Bowie returned a card baring his lip prints with a thank you note to the company.  Word got out!  The kiss prints of this rising Starman were immediately sought after and people wanted to purchase Bowie's "lipograph".  So the idea of auctioning off the lip prints of celebrities or "lipographs" for a good cause was born!  In 1979 Sotheby's held an auction of celebrity prints for the Save the Children Foundation on their Diamond Jubilee year.  And while David Bowie's lip print were the inspiration, Mick Jagger's prints fetched the highest price. Go figure!
When David Bowie made his famous lip print he included the year 1979 on the print next to his signature.   However, he did not note the exact date when he put lips to paper.  I ran across the Bowie Golden Years website which gives a detailed account of Mr. Bowie's calendar and schedule for that year.  In 1979 he launched a new and lesser known album "The Lodger".  During the spring leading up into summer of that year he was shooting videos for the album, as well as traveling between the US and the UK doing promotional interviews.
The 1979 May calendar lists this:
May 20, 1979 Contributes a 'Lipogram' to a celebrity charity auction at Sotheby's for 'Save The Children'. It is a piece of card with his lip-print on it with the inscription, "The lips part like silence set for alarm – Bo. '79."
Lipsologists study lip prints and share the secret messages the lips want their owners to know pertaining to their life at the moment.  So if Mr. Bowie and I were having a Lipsology session in 1979, this is what I would have told the Thin White Duke: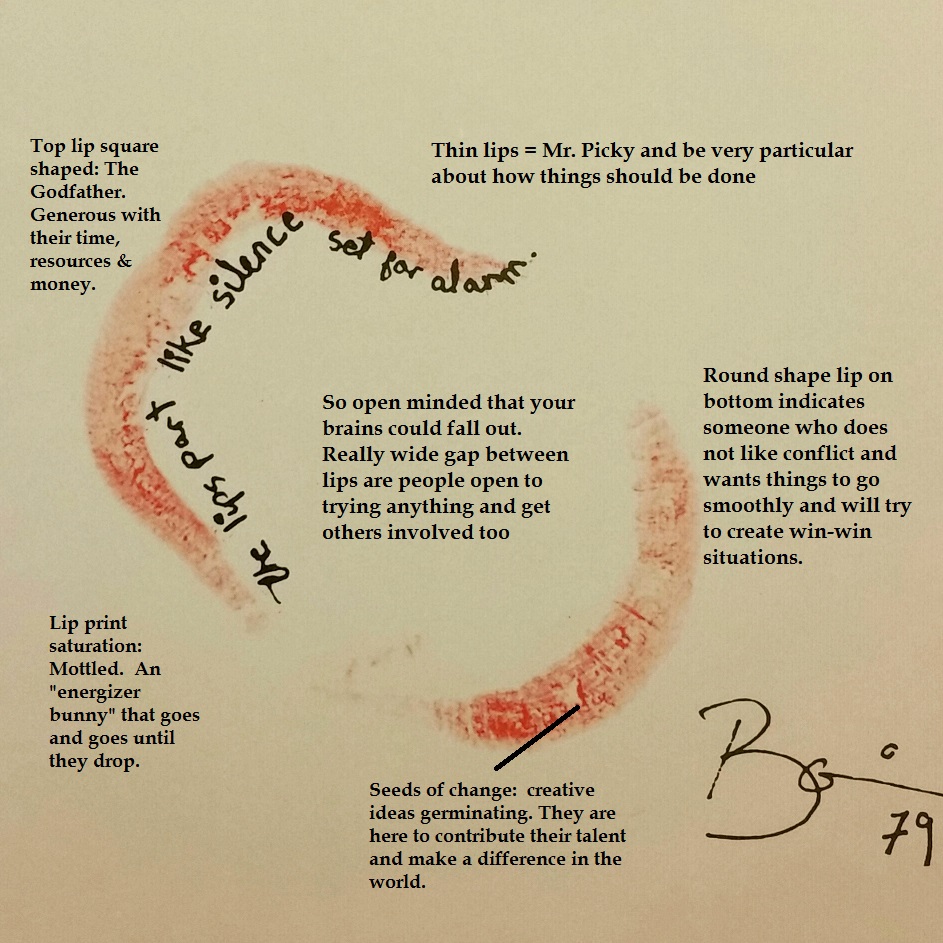 The color of the lip prints is mottled and you are like the The Energizer Bunny that goes and goes until the battery runs out.  You need to balance your life and get some rest or at least temper the schedule.
Shape of the lips are thin.  You are Mr. Picky and being very precise on everything.  Details are important to you because you count on them for your projects and plans.  Just remember that others aren't quite as detailed as you are and ask a lot of questions.
The size of the lip print is big. You are a leader, business owner and employer.  You have big ambitions and visionary.  It's play big or go home.  You don't like to nitpick about things and must finish what you start. It's better to take the lead  if you want it right.
The top lip has a square shaped to it:  Your community sees you as rock solid and an anchor – otherwise known as the Godfather print.  You are the go to person in the community and are generous with ideas, resources and money (sometimes to a fault).  You don't waiver with your values and beliefs.  We can count on you to keep your word.  Integruity is important.
The shape of the bottom lip has a smooth roundness to it. This is the peacemaker that longs for everything to run smoothly, no conflicts and in harmony.   (Because this is the bottom of the lip, others would not have known that Mr. Bowie longed for peace and quiet and would have been trying to smoothing out some conflicts so that people around him would  get along).
The Seeds of Change Mark on lower lip (looks like a white circle) – indicates the germination of a great idea.  You have a great idea that would make your mark and have a lot to contribute to the world.  The mark reflects  new ideas you are working but may have not fully flushed out yet.
Wide gap between lips –  You are a natural ringleader and will get others to do things that they might never do otherwise.  You are willing to try any thing at least once and maybe more! (Lipsologist, Jilly Eddy describes people with this wide gap to be "so open to ideas that their brains could fall out").
Slight up curved corners of the mouth indicate your current view of the world as a happy optimistic place.  You feel lucky.
And we should all feel lucky.  We have a wealth of music and media to remember him by.   I love how his prints reflect how he seemed to present himself through the media during the late 70's.  It didn't surprise me that Mr. Bowie had big lip prints, the thin lips or that the gap between the lips was so wide.  That all makes sense to me.  What surprised me was the square shaped top lip and the two lips if you drew a shape around them reflect more of a rectangle shape.  I actually expected the shape of the lips to be a Diamond shape (success in anything you do).  But here we see an individual who stands on integrity of who they are and what they stand for.  He was a pillar in his community and looked up to by his peers and fans.
So would Mr. Bowie taken my advice to slow down.  Nahhh – I doubt it.  He was on a role and had so much to do and so many goals to pursue. I can only wonder how his lip prints might have changed once he married Iman and settled into a more secluded life.  But I bet they would have been just as fascinating.
Please follow and like us: