I wear my Lip Prints by Laura name badge to many networking meetings in the Dallas area.  And people are always curious about what is Lipsology?  And what does a Lipsologist to do?   Really, the only way to show someone how amazing and fun Lipsology can be, is to actually read their lip prints.  Once I start everyone wants to do it – yes, even the men.  Of course, alcohol usually influences them and the fact that women are all gathering around talking about kissing.
I was  thrilled when my sister Lipsologist Anna Snodgras sent me this link and I want to share it with you!   It seems that she was interviewed by Marie Claire magazine and they pulled together a nice little article featuring lip prints and how to read your own with a few pointers.
What you'll learn:
Size does matter!  How big a print is means something!
Every lip print has a shape even if it's wavy (that's a shape).
Not everyone has a Cupid's bow – and I wouldn't boss those people around BTW.
How badly you need a vacation or a spa day – (no to faint pigmentation on the paper – pack up the suitcase).
If you get really curious keep a kiss journal for a week and see how each day your lip prints change!
So right now, go put on some lipstick, get a piece of unlined paper and give it a couple of smooches.  I know it's weird the first time you kiss paper but no one is looking.  Now keep your prints in front of you and find out How to Read Your Lip Prints!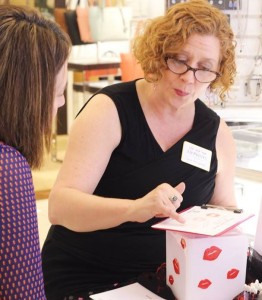 Laura E. West is one of eight certified Lipsologists (lipstick print reader) in the United States.  She studied with Jilly Eddy the creator and author of "Lipsology, the Art & Science of Reading Lip Prints".  Laura enjoys entertaining and reading lip prints for corporate events and private parties as well as friends and family. When not examining lip prints, she trains for marathons and kisses corgis.
For more information about Lipsology and to book Laura for an upcoming event click here!
Please follow and like us: