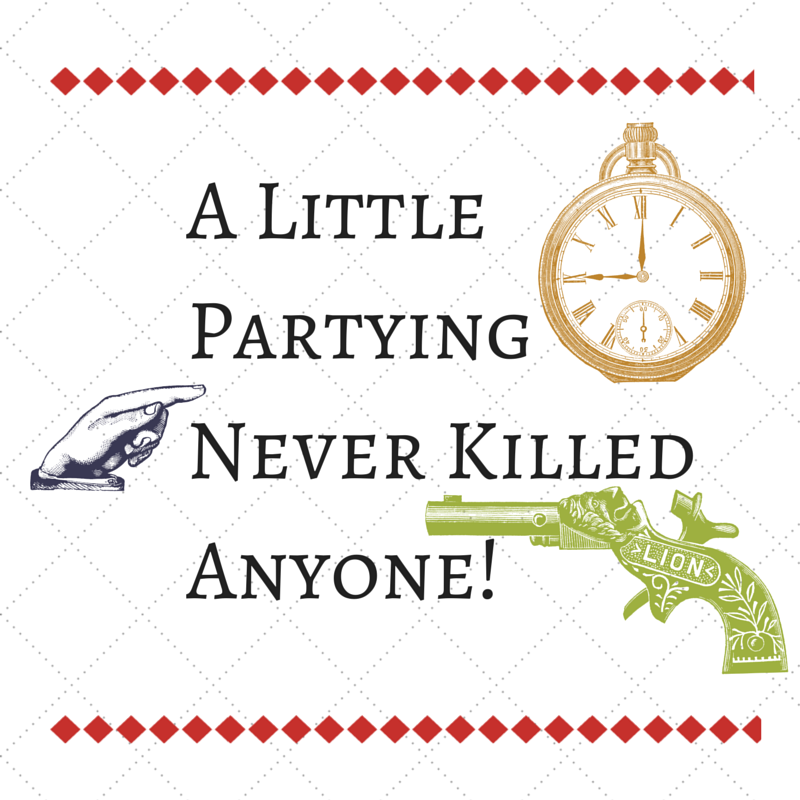 I am all dressed up in my fortune telling costume ready for a night of palmistry reading!  The sign on the front door of the house read "A little partying never killed anyone".  This is the first thing the guests would see when they arrived.  However, they knew from their host's invitation that they were in for much, much more.   I had been booked on this event for several weeks and looking forward to the fun.  My job for the evening was to do palmistry reading for guests participating in a 1920's Murder Mystery birthday party.
I loved the concept of their party and knew how engaging that would be for the guests.  Plus, I love that time period and had plenty of costuming for it.  We were soon corresponding back and forth and making plans for the event.
The sign on the door was just the beginning of a festive evening.  The ladies arrived dressed in colorful flapper costumes, long gloves and jewels.  The men wore hats, suspenders and zoot suits.  Champagne was poured and plenty of food was lavishly displayed.  I was strategically placed in the dining room which all the guests had to pass when they entered through the front door.  You couldn't miss me in my bright turquoise gypsy jacket and red turban.  My table was already set up by my hosts with lovely black table cloth and crystal candle stands.  All I added was a crystal ball and it was the Cats Pajamas!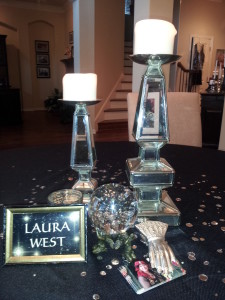 When I do palmistry readings at parties, I usually will start seeing some patterns of similar markings in the hand.  This group had a lot of people who were very independent and were always interested and anxious to try new things (gap between the life and head lines).  They were also individuals with creative qualities and out of the ordinary interests (long ring finger).  It did not surprise me that the group was so enthusiastic about dressing up and joining in an evening of theatrics and frolic.  They all seemed to really enjoy each other.
Our two hours flew by and it was time for me to go and the Mystery Murder game to start.  I was packing up when one of the Mystery actors pulled me over for one last palm reading and a quick picture before I slipped out the front door.
Who Dun nit?  I dun no – but it wasn't the fortune teller!
 Looking for a fun entertainment idea for your next party or event?  Get a free quote
Laura E. West is a professional fortune-teller and certified Lipsologist in Dallas, Texas.  She entertains and enlightens many different ages at parties and events. She is available for private consultations and classes at  Prana Haven, Energy, Wellness and Gifts for the Soul, located in Richardson, Texas.  Drop by, sit a spell and have a cup of tea!   Get a reading or take a class!   www.lauraewest.com

Are you worried about an up coming decision? An intuitive reading can be a wise investment to get you back on track and remove the stress.  Schedule your private reading!   Click here for appointment
Please follow and like us: