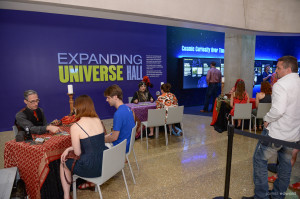 It's not very often that you have science and supernatural mingling together, but the Perot Museum of Nature and Science chose the theme of Superstition for their June 20th Friday Social Science Night. My friends Valentina Burton and David Alexander invited me along for this adventure and we brought all of our lucky charms, horseshoes and crystal balls for the occasion.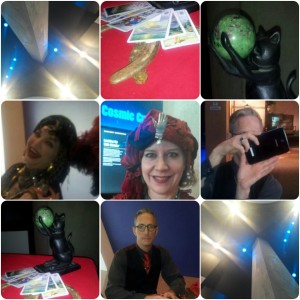 What do fortune tellers do before starting our night of readings?  Do we meditate or contact our spirit guides?  Heck, no!  This lucky trio takes pictures!  We love hamming it up and laughing before we start.  This whips up positive energy around the space and creates a fun atmosphere for the people who are coming to see us.  And boy did we need it!  We had long lines of people.  Even at averaging three to four minute card readings per person, if you are number 50..well you can do the math on how long you may wait in line.  This is how popular fortune telling is at events. People are curious about their future and are willing to stand in line just to hear what we have to say in that short period of time despite the length of a line.
People may come to the table with a friend or date, but each person gets their own 5 card reading.  This focuses the reading and eliminates any confusion among couples of which one the cards are referring too.  In this type of circumstance we rarely let the person ask a question, but instead let the cards "talk".  I lay out my cards and let the person I am reading pick out 5 cards from the pile.  The first card becomes the topic of conversation.  The next three cards elaborate on the subject card and the fifth card acts as a suggestion on how to move forward in the situation or anything else that the person needs to be reminded of.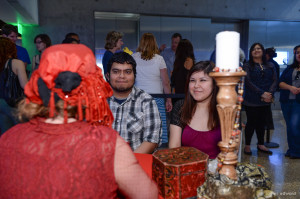 I do this process with every person within 3 – 4 minutes.  Between people I pick up the cards and shuffle them several times before lay them out in front of the client.  What is fascinating is that some of the same cards begin to appear in the card spreads during the evening like a theme. Or a couple will have the same card and placement in each of their card spreads.  This always fascinates me no matter how many readings I do.
It was a great evening!  The  Perot Museum staff were all consummate professional and gracious hosts.  They took really good care of us.  They made sure we had water, managed our lengthy lines and even did the dirty work of cutting off the line thirty minutes before our time was up.  That's not easy, believe me!  And kudos to the Perot on including fortune telling into the entertainment!  We predict we will be back in the future!
If you want to book us for your party or event contact me at laura@lauraewest.com or 214-334-0769.
#perotmuseum, #socialsciencenight, #fortunetelling, #lauraewest
Please follow and like us: