Click here to book a party or event!  Do you want entertainment that won't scare the daylights out of your guests?
Many people are scared of clowns, mimes – and sometimes magicians because somewhere along the way they have had a bad experience with them.  No one likes being uncomfortable, scared or the brunt of a joke especially at the expense of being publicly embarrassed.  The entertainer you choose can make a big impression on your guests.  How they present themselves and interact with your guests will leave a lasting impression.  As a professional reader, I pride myself in looking my best, wearing beautiful costuming and creating an environment that's entertaining and charming so that the guests feel at ease and enjoy their fortune-telling experience.
Oh- the three big "D's" death, divorce or financial doom will not be mentioned.  It's a party and we want people to celebrate – so I'll be accentuating the positive!
Fortune telling readings can be a great way to get guests talking and interacting with each other in a good way.
It's always best to be clear with the reader on what your intentions are for your guests.
I include a quick phone consultation with my clients to make sure we are on the same page for party theme, expectations and any props or additional items I might need to bring for the event.  I always supply my clients with a picture of myself in costume as well.
Want to break up the usual business networking session, company party or client appreciation gathering?  While lots of fortune-tellers like to sit at a table and have guests come to them, I find that doing strolling readings at corporate functions to be very effective.  It's fun to engage with groups of people comparing palm readings to the individual's personality, strengths and habits.  Once the guests realize that the readings are fun and entertaining, they bring their friends over to hear what I have to say about them.  People find it very  entertaining to listen in and see if they gypsy gets it right!
Do you need entertainment for hard to please tweens and teens?  In this day of internet and social media most teens engage with their phone.   Not so with fortune-telling.  Teens find tarot cards, palmistry and crystal ball readings an intriguing way to explore poplar personal subjects:  Love and relationship and what will they be doing when there are (gasp) twenty something.  Teens are excited to gather around and hear what I have to say to their friends.  They are often amazed at how accurate the card readings are about their current situation and how to positively solve any problem that they are facing. I also bring extra activities so any restless teens who can have some fun answering their own Yes or No questions while they wait.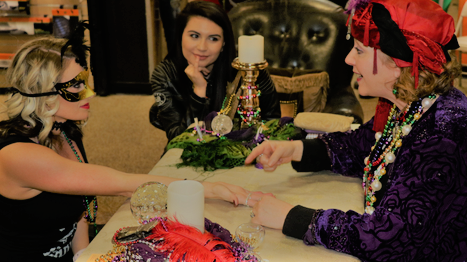 What do you do/How it works:  I like to do quick 5 – 8 minute readings at parties and events.  My philosophy is to be positive and entertaining but professional and on point.   I wear a costume appropriate to theme and bring table cover and props to set the mood. A table and three chairs where guests sit for their fortune is all that is required. I can even provide the table if needed.  Palmistry does not require a table and works well at a cocktail party or other events where space is limited and I can stroll through the party to entertain the guests.
Ages:  Palmistry, tea leaves, crystal ball readings as well as Lipsology (lip print readings) work well for all ages and party themes.  I have always read tarot cards for adults, but in the past ten years have found that I enjoy working with and have a talent for reading teens and college age adults as well.
Cost:  Tell me about your party or event! Call (214-334-0769) or email (laura@lauraewest.com) to discuss rates for parties, corporate events and trade shows.  Additional fee for travel may apply if outside Dallas metropolitan area.
Here's a list of what I offer:
Palmistry Readings – I can do palm readings while strolling through a party talking to groups of guests or seated at a table where guests may visit for an individual reading.  Palmistry is about personality reading based on the lines, shapes and special markings in the hand rather than predicting future events.  This is lots of fun for all ages including kids and teens.
Tarot Cards – It's all about the future and predicting events. A quick card spread may predict a change in job, increase in finances or news of love.   Tarot cards are very entertaining for teens and adults.
Get a quote for your party or event!
Tea leaf Reading.  – Future events are predicted by reading the tea leaves left in a tea cup. Guests choose a small cup of tea, tap on it three times and then pass it to me.  Their cup of tea leaves go into my white tea cup.  The cup is swirled three times and then turned over. Tea leaves clump in groups and make shapes to be interpreted.  The leaves on the bottom of the cup represent major themes for the next three months.  The  tea leaves left on the sides of the cup indicate the timing of events for the three month period.  Perfect for for all ages.
Party themes:  Looking to the Future, Harry Potter, Alice in Wonderland Madd Hatter Tea Party, Bridal or Graduation tea parties.
Crystal Ball Reading – Future events are predicted for the guest from a clear question. The crystal ball readings are popular with tweens and teens who want to know what they will be doing at a certain age or what their spouse will look like.  Teenagers particularly like the storytelling aspect to this kind of reading and will gather around to hear what I "see" for their friends.
Lip Prints by Laura – A coat of lipstick, three to four kisses on a "kiss" card and I read the prints.  I have a variety of bright and dark lipsticks in case ladies don't have their lipstick handy.   Lipstick print readings reveal information that the person's subconscious wants them to know.  Are you a diamond or mountain?  How open minded are you?  Do you have a guardian angel?  These are just a few of the many things a lip print can reveal.
Contact me to book a party, event or private reading:
Laura E. West, Fortune Teller   214-334-0769    laura@lauraewest.com