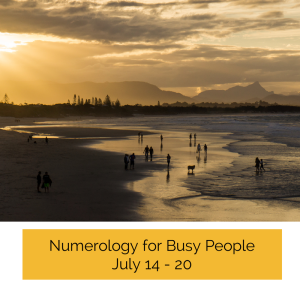 We had a full moon on July 13.  The next two weeks the moon appears to get smaller until it reaches the dark new moon.  This is a good time to release things or beliefs that may be limiting or cluttering our lives.   What would you like to let go of? 
Plan your week:
July 14 – Numerology # 3 Days to express yourself and have fun! 
As Mr. Rogers says:  "it's a beautiful day in the neighborhood" – go out and enjoy it!  Meet a new neighbor or get to know a new co-worker.
July 15- Numerology # 4 days to watch where your money is going!!! 
Money won't create success, the freedom to make it will.-Nelson Mandela
July 16 – Numerology # 5 Days where energy abounds!
Taking even tiny steps gets us closer to our goal.  Dare yourself!   What's one thing that you could do to move yourself forward?
July 17- Numerology # 6 Days to stick close to home. 
Family- who need them?  We do!  Check in on family members and find out what they are up to and give them your undivided attention.
July 18- Numerology # 7 Days to rest, breathe and release.
Stop a minute, right where you are. Relax your shoulders. Shake your head and spine like a dog shaking off cold water. Tell that imperious voice in your head to be still. –Barbara Kingsolver
July 19-Numerology # 8 Days for success in business and finances.
Make a list and check it twice.  Good day to organize and freshen up a work strategy.  Check your planner and make sure that no special person has fallen off your list of calls for today.
July 20- Numerology # 9 Days to let your little light shine! 
As we let our light shine, we unconsciously give other people permission to do the same. As we are liberated from our own fear, our presence actually liberates others.-Marianne Williamson
Have a great week!  I will be doing readings this Friday, July 18 at the Cirque du Burlesque show, Lakewood Theater, Dallas, TX.  I am set up in the lobby, so stop by!   $20 for a Tarot card and Palmistry reading!
Please follow and like us: