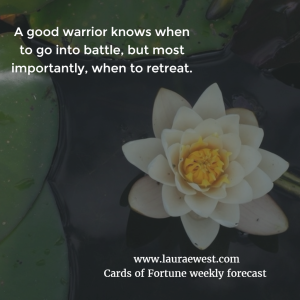 This week will be filled with finishing projects and planning new ones. It's important to manage your time and know your limits.  This particular quote jumped out at me:
"He who knows when he can fight and when he cannot  will be victorious"- Sun Tzu.
In other words:  A good warrior knows when to go into battle, but most importantly, when to retreat.  Or simply:  Pick your battles.
This week has some challenges and you will need to navigate some emotionally charged situations. You may feel conflicted about the choices you are making, but if you make them with logic and not with emotion you'll have a smoother transition. Nevertheless it can be bitter sweet moving on, but you won't regret it in the long run.
Consider these things before you get on other peoples (or even your own self induced) crazy train this week:
Is it really your emergency? Or are you getting your chain yanked again by people with an agenda? These little episodes are stealing your time and energy. Decide how much you want to play into these scenarios.
Look at both sides of a situation. What can you really do about it? If left alone the situation could simply work out.
Are you inspired or tired? And while there may be opportunities for adjustments, when you are on the right path, it feels easy, like hanging out with a good friend.
What's best for everyone involved (that means you too)? Doing things from a place of love does not mean martyrdom. Avoidance, fear and righteousness are things that keep us out of love. There is a lot of freedom in not being attached to the outcome of a situation.
And yes there's more:
Mercury goes into retrograde on April 28 and joins Mars and Pluto in a planetary dance that can really slow things down.  Most of you know the drill: plan ahead and back up electronics, review the work you've been working on and avoid starting anything brand new for the next three weeks.  Build in plenty of time for boo boos and whoopsies in your schedule.
Mercury is a great time to review where you are on projects. What's the satisfaction barometer? Are you getting what you want or what you need? What adjustments are you willing to make?  More retrograde planets to come in the next few weeks, so stay tuned!
Laura E. West is a professional fortune-teller in Dallas, TX. She provides intuitive entertainment including palmistry, tarot card, tea leaf and lipsology (lipstick print) readings.  Between reading at parties and events and training for marathons, she is always on the run!  Catch up with her every third Saturday at Viva's Lounge and the Cirque du Burlesque show!
My Cards of Fortune reflections are based on Ernst Wilhelm's video classes at  https://cardsoftruth.com/.  If you are interested in learning about the birth card system, his video classes are educational as well as entertaining.   
Sign up for my newsletter!  Yes!  I want good fortune now!
For more information on how you can get your own Card of Fortune reading, or to book a party or event contact me at laura@lauraewest.com or call 214-334-0769.
Please follow and like us: