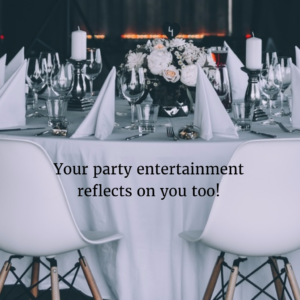 It's hard enough planning for a party or event, but even trickier if you are hiring talent to entertain your guests.  Remember that they will be a reflection on you, working in your space and be interacting with your guests that may include some VIPs in your personal life.  No matter if you hiring a clown, face painter, magician or in my case a fortune-teller it's best to really make sure you know who will be working with you.
For many years I have been hired by entertainment agents and party planners who would work out the logistics and contracts with clients who specifically wanted psychic entertainment for their special occasion.  But things have changed and we are now in an age where anyone can do a little research on the internet and hire any entertainment imaginable.  So several years ago, I put together a website and did a little marketing about my fortune-telling services.  Now I interact on a daily basis with moms, corporate event planners, and marketing companies who are tasked with finding talent and entertainment for specific events and are exploring the possibilities of using my fortune-telling and Lipsology (lip print reading) services to engage their guests or clients at their next special occasion.  I like to speak with all my clients on the phone to understand a little more about what they are planning. I like hearing what my clients have to say and it informs me more about who they are and how I might best work with them A phone conversation is always better than an email or text.   Most of the time we are a match and able to agree on the expectations, what services I can provide to make their event memorable and successful as well as a cost estimate.   Because of this, I have many repeat clients and referrals.
The other day a woman contacted me interested in having fortune-telling for an upcoming event at a retirement community.  She said that she wanted fun and quick readings because her seniors wouldn't be able to stand in lines or wait very long and would it be possible to have two people for the job.    So, then came her third requirement, her budget.   When I told her that her budget would barely cover one reader for 30 minutes, she was shocked and joked that she was in the wrong business.
So I let her know what people get when they hire me:
A professional entertainer who is also skilled at their craft.  Through my years of experiences and reading thousands of clients, I know how to talk to people and what is appropriate information to share at an event and with each particular audience. My readings for corporate executives will be different than how I relate to teens, or in this case retired seniors.
Years of experience specializing in parties and events. I do a lot of different types of intuitive entertainment (palmistry, tarot cards, tea leaf reading, astrology as well as Lipsology) and can make suggestions of what might work best for a particular situation to get the biggest bang out of my client's budget.
Attention to details and a flair for elegance. I wear beautiful costumes and can bring table decorations and props that match many themes.  I stand out from your guests and often can match the party theme.  I can even bring a small table if needed.
Quality customer service. The guests are my first concern and with jobs less than three hours I will be steadily doing 3 – 5 minute readings before taking a break.  My clients are often surprised at how popular fortune-telling is especially if people see others having fun and enjoying their experience.
"You should be paying me."  The woman argued, "Wouldn't this be a great opportunity for you to hand out your business cards and get some extra business from these older people who worry about their life and future?"
This was a red flag for me. Oh, yes, there are lot of individuals who will recognize the opportunity of being invited into a retirement home as a potential goldmine like a fox getting into a hen house.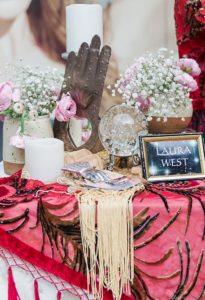 "You might want to beware of people who are willing to work really cheap. " I warned her.  "You definitely get what you pay for.  And, believe me, there will be people who will work for your budget or under in a heartbeat so they can sit next to senior citizens and learn all about them.  They'll also enjoy looking around and casing your retirement facility.  I would recommend really vetting them in advance."
"Oh – believe me I do – I cover my bases" she stammered.
Now at this point I could have just let the conversation go.  However, I continued to give her a few more pointers.
Ask if they have liability insurance.
Check out their website.  Does it look professional?
Do they have any pictures of themselves and their work?
Do they have any testimonials or reviews?"
"You carry insurance?"
"Yes, I carry entertainment liability insurance and my website has plenty of pictures, descriptions of what I do as well as reviews.  If you aren't comfortable with hiring me off of my website, you can go to my page on Gig Salad or Gigmaster, see my reviews and hire me from either site.  And while not all people have a website, that's a great place to see what your reader looks like and to get a feeling of what kind of personality they have.  However, not everyone has reviews so you still need to do a little homework.  I returned your phone call and am willing to tell you what my services are worth.
We agreed that we were not a good match for her event or her budget.  But, I felt good that I had given her some pointers and a couple of leads of what to look for as she worked to find someone reputable and in need of some pocket change who could do the job and not make off with the silver.
If you are looking for fortune-telling/psychic entertainment or any entertainment for your next party or event consider what you want your guests (especially family, friends or that special client you want to impress) to experience.  Your future may depend on it.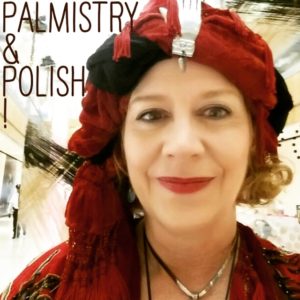 Get a quote for your next event!
Laura E. West is a professional fortune-teller and certified Lipsologist in Dallas, Texas.  She entertains and enlightens many different ages at private parties, corporate events, trade shows and more. She is also available for private consultations and classes  most Saturdays at  Prana Haven, Energy, Wellness and Gifts for the Soul, located in Richardson, Texas.  Drop by, sit a spell and have a cup of tea!   Get a reading or take a class! www.lauraewest.com
Please follow and like us: