Fundraisers are a great way for people to network while supporting a cause that they are devoted to.  There seem to be so many of them and the themes can be endless.  Many of my clients look for new ways to incorporate entertainment and talent into their event that can create an icebreaker, provide a souvenir or a one of a kind experience that everyone will be talking about for weeks to come.  I have never worked an event where I didn't have an immediate line of at least five people when I started. Guests quickly see that I'm fun and not scary (no doom, gloom or calamity) and my line instantly grows.  I'll be busy the entire event. Fortune-telling and now Lipsology readings are an instant hit because it adds a personal touch in a way no other entertainment form does.  I rarely find someone who does not like to talk or hear about themselves.
Here are a few examples of some recent fundraisers and their ideas: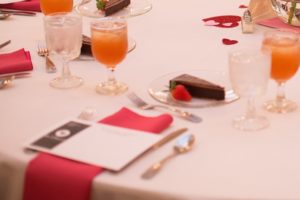 Love it Forward a Valentines Day event for the Modern Widows Club. It may have been rainy outside, but inside at the Scottish Rite Library, it was a beautiful day to honor their lost love and also the sisterhood of being a widow.  The group of ladies range in all ages and refer to themselves as "wisters" because of their unique sisterhood of becoming widows.  I had been contacted by the group to do Lipsology (lipstick print readings) since naturally love and kisses are perfect for the St. Valentines theme.  Every woman had a "kiss card" at her luncheon place setting with instructions to apply lipstick, kiss the card 2 or more times to make lip prints.  During the luncheon I was available to read lip prints, jot notes on their kiss cards and share the messages their prints had for them.  In addition to entertaining, I also did a Lipsology reading of one of the Modern Widows Club male board members.  The group auctioned off his kiss prints with my notes as part of the fund raising experience.
Sweet Endings featuring a night of fun drink stations and desert bars was the spring fundraiser for Temple Beth'El in Fort Worth.  Lipsology was a great addition to the event theme since we think of kissing as sweet and also a way of ending the evening.  Kiss cards were created with the Sweet Endings event logo on it.  A Lipsology vanity station was set up so that the guests could choose lipstick colors and prep their kiss cards before coming to me to have their lipstick prints read.  Guests nibbled on an array of desserts and sampled all sorts of fun cocktails while they waited.  The theme attracted a good crowd of diverse ages with lots of interesting and interactive stations of food and fun.  Photographer Jerad Lindsay  did a great job capturing the crowd at my Lipsology table.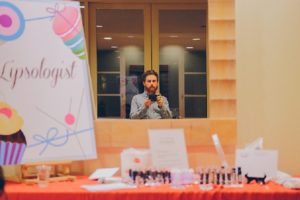 Circus, Circus!  This circus carnival themed cocktail fund raiser for the Edna Gladney Center for Adoption in Fort Worth featured fun stations of activities with including getting your fortune told in my gypsy tent.  Guests were given ticket/token to give to me and receive a four minute reading.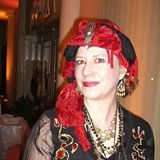 I was decked out in full gypsy costume and brought all of my fun props and table decorations to set the mood.  This was so popular I had to set a timer to make sure that I could get everyone read. So much fun and for the future of children!
Fortune-telling and Lipsology readings are a perfect fit for many event themes creating a stir of excitement and intrigue as well as provide an attractive display that signals an activity for your guests to try.  Are you on the board of an organization, or anticipating an upcoming event or company party?  I'll be happy to help you look into the future and what might be the best intuitive entertainment fit for your next fete. Contact me now!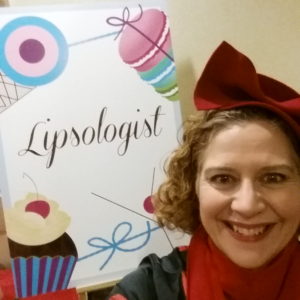 Laura E. West is a professional fortune-teller and certified Lipsologist in Dallas, Texas.  She entertains and enlightens many different ages at private parties, corporate events, trade shows and more. She is also available for private consultations and classes  most Saturdays at  Prana Haven, Energy, Wellness and Gifts for the Soul, located in Richardson, Texas.  Drop by, sit a spell and have a cup of tea!   Get a reading or take a class! www.lauraewest.com
Please follow and like us: