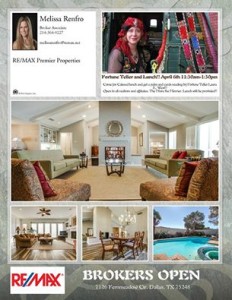 Remax open house: Food, Friends  & Fortune-telling
Some people are really easy to work with and you can tell that they are just born that way. I was lucky to have an opportunity with a client like that recently.   I enjoyed working with Re/Max real estate broker Melissa Renfro from the moment I spoke with her on the phone.  She was so enthusiastic and had a clear idea of how she wanted her event to be.  She wanted a lunch time event that would grab the attention of her clients and be memorable.  She wanted people to be excited about her open house and spend time enjoying lunch and viewing the property.    She also thought that it would be fun if people could get their fortunes told.  We agreed to a few logistics and I created an agreement for our adventure.
During our phone call, I had encouraged her to use pictures from my website to promote her open house and she had a flyer pulled together and posted in minutes. I watched on Face Book as people responded to her announcement and the opportunity of getting a card or palmistry reading.  Many were really excited and planned to stop by while a few regretted that they would miss it.
On the day of the event, I arrived early to set up. Melissa's suggestion to use the dining room table for my reading station was perfect. I could be seen immediately by anyone entering from the front door.  I was able to lay out a table cloth and set my crystal ball, candles and other decorations.  The fortune teller was ready for duty! There was plenty of room left on the other end of the table for the guests to sign in and fill out other information.
I made sure that I read for Melissa first so that she had a good idea of my reading style and how I would be talking to her guests. Often, my hostesses are so busy, that I don't see them until the end of an event if even then.  But Melissa had everything in place and had a moment to relax and enjoy her reading.
Through the next hour and a half I met the most marvelous people and engaged them in palmistry and tarot card readings. Palmistry reveals information about a person's personality based on the shapes, lines and special markings on the hand. The tarot cards predict future events.
One young woman's cards indicated that in the next few months the big, scary decisions that she and her husband had just made would turn out to be the best decision they ever made.
Another woman would be using her talent of teaching to help people and train them in what she knew how to do. While another client and I discussed attracting the perfect client and how sometimes she was drawing in the ones who would be easy to work with and bring in the big money.
Men and women stopped for a reading and time went by quickly. Great people, wonderful readings and a lovely lunch: bingo!
While I was packing up, I asked Melissa if she got the result she wanted. She was very pleased at the turnout and had felt that the open house went well.   Everyone seemed to love the fortunes as well.
But it doesn't surprise me why it went well. She was very smart.  She checked me out and vetted me on the phone.  We both agreed on what would happen.  And the most importantly for me: she had a clear idea of why she wanted a fortune teller.
She told me "I like this kind of thing, so I figured the people I like would like it too".
Sometimes my clients are very surprised at how popular fortune-telling is and underestimate how many people will want a reading. Maybe Melissa is a little like a fortune-teller too!
Please follow and like us: