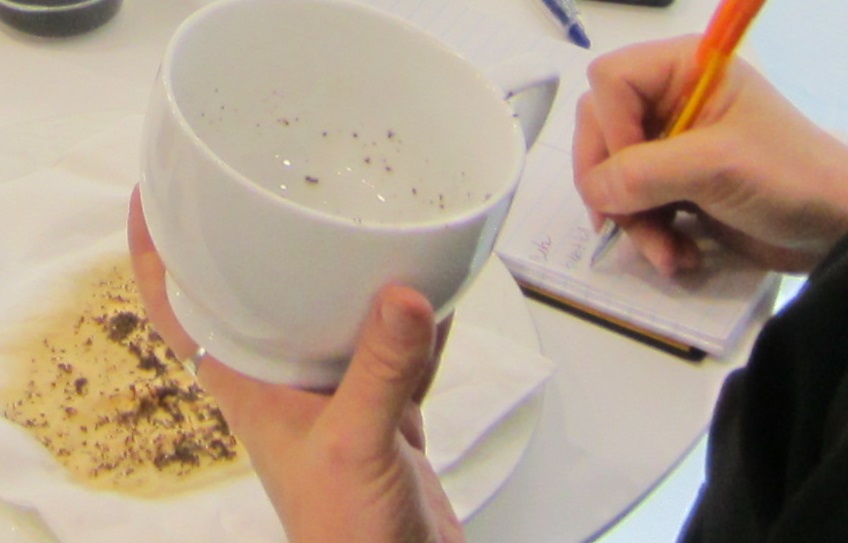 Of all the things I do, tea leaf reading is one of the oldest fortune-telling techniques. Very few readers do it, especially here in Dallas, Texas, so my clients don't request it as frequently as the tarot card or palmistry readings. It is an old fashioned way of doing readings and such a treat for me to spend several hours doing nothing but looking and interpreting the images I see. Every cup of tea holds leafy puzzles that I decode for the person I am reading. These are special messages just for them that can be cryptic like a riddle or have very personal meanings that only that person would understand.
Recently, a client requested tea leaf readings for her friend's bridal shower. I like this client, I have worked with her before and found her to be so creative, well organized and her guests were always charming and fun. I could tell the afternoon would be another lovely event. I was particularly happy that she had asked me to do tea leaf readings.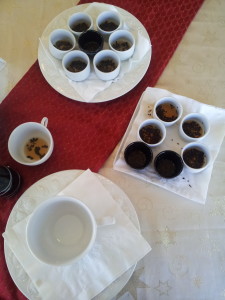 Tea leaf readings take some preparation on my part to run smoothly. When people come to my office for private readings, they sip on the tea and then hand me their cup. There isn't time to do all that at a party or event. So, I prep small ramekins of tea leaves (jasmine, mint, blackberry sage and a gun powder green) for people to choose for their fortune. My table is set with plates of little ramekins of tea, as well as my reading cup and a stack of napkins. I also have tea cards on which I will notate the symbols that I find in each guests cup. They get to take these drawings and notes with them as a souvenir.
When the tea hits my reading cup, the aroma of the blend fills the air and you can immediately tell which tea the client choose without even looking. Various types of tea leaves clump uniquely and have their own style of images. The blackberry tea has smaller leaves and smaller images. The jasmine creates images that look like line drawings. The green teas have longer leaves that unfurl and can actually make three dimensional images in the cup.
After I take the tea ramekin from the guest, I dump the contents into my reading cup and then "spin" the cup by moving my wrist in a circular motion causing the tea leaves and the small amount of water to whirl around the cup. Next, I drain any remaining liquid onto a napkin and start looking for whatever symbol catches my eye. I search the cup and make notes on the tea card or draw the image and any other image close to it. These will be put together as a story for the person I am reading. Looking at tea leaves is a lot like looking at ink blots or clouds. You have to use your imagination and go with the first thought that comes into your head.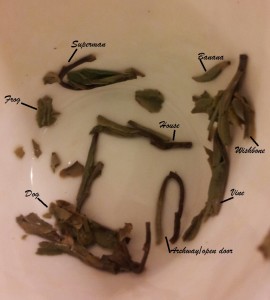 It's been a rainy afternoon. But the bride to be has had some good luck and the rain has let up and given us a break. I'm sitting in a small enchanting parlor decorated with cute whimsical needle point pillows and antique chairs – just the perfect place you would love to sip tea and talk with a friend. The guests have all been very excited and I have been busy all afternoon.
The tea leaves tell of vacations, gifts, money, social occasions and news from old friends. All the readings sort of blur together in my memory except for the cup of the bride's grandmother that includes the images of a peacock, mermaid, dolphin, palm tree, the letter C and a boat. I mentioned to my client that she has a lot of symbols in her cup pertaining to water.
What was really amazing is not what I told her about her cup, but what she told me that the symbols meant to her. The peacock symbolizes wealth by marriage and the lady admitted that she and her husband had been happy and well off. Ms. M continued to share a wonderful story about the bride and how as a little girl she chased the peacocks on a property in Hawaii that she and her husband loved to visit. She couldn't get over how fascinated the little girl was with them. The dolphin (a symbol of luck) and palm tree (vacation) reminded her of Hawaii where she and her late husband spent a lot of time and where she also brought his ashes after he died. She hadn't been there for a couple of years and thought about paying a visit. The letter C belonged to her accountant who she was waiting to hear from about some good news regarding her stocks. The mermaid – well she felt that she was the mermaid and belonged in the sea and one day she wanted to join her husband in the waters off Hawaii.
We sat for a moment and I held her hand and thanked her for telling me such a personal story. She thanked me for the experience and that it had touched her so much since she had been recently been thinking about her own wedding and the wonderful years she had spent with her love.  It's moments like these that remind me how wonderful life is and that there is magic in how these experiences can connect us to meaningful memories.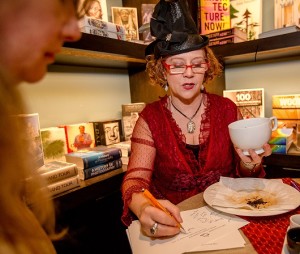 Tea leaf readings are fun for bridal and baby showers, but are great for small tea parties as well. All ages love them. I've even done them in department stores as well as fancy hotels.
For more information on how you can have tea leaf readings for your next event or to sign up for my newsletter
Good fortune always!
Laura
Please follow and like us: